One-Way Citylink from Kota Kinabalu (WBKK) to Subic Bay (RPLB)
18 September @ 8:00 pm

-

19 September @ 12:00 am

UTC+8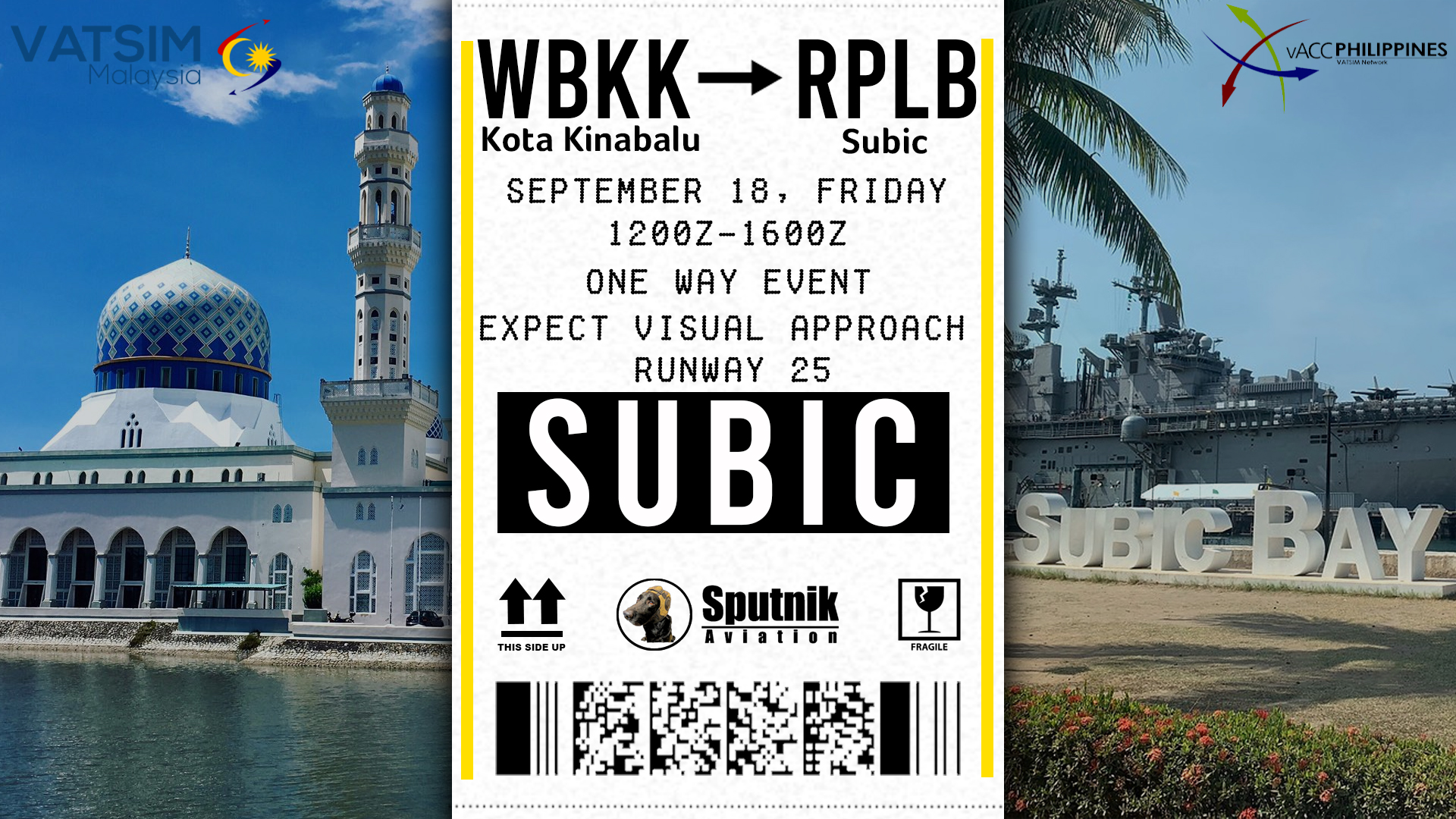 Announcing our first event with Sputnik Aviation!
Hot off the heels of our Malaysia Day Borneo Fly-In, this time Kinabalu will be alive again with this KK – Subic Bay Citylink.
Come join us from 1200z till 1600z.
Proposed routing : OSANU M646 OLRAX W3 LUBAN TR23 BATAN (Expect Kinabalu Radar 2 Departure and expect VOR 07 – Visual approach RWY25)
Recommended flight levels : 330 350 370 390 410
Terminal 2 in Kinabalu reserved for Category C aircraft only.
Preferred Sceneries:
WBKK
[FSX Freeware] Click it Here
[P3DV4 Freeware] Click it Here
[P3DV4/FSX/FS9 Payware] MFSG WBKK
[XP11 Freeware] X-Plane Forum
RPLB
[XP11 Freeware custom Sputnik Subic Scenery] here.

Custom Sputnik Livery Base Pack here.
Aeronautical Charts:
Remarks:
1. All flights and ATC services in Malaysian FIRs will be conducted under the VATSIM & MYvACC regulations.
Conflicts will be handled as per published on the VATSIM CoC.
2. Non-event traffics will be granted lower priority.
3. Plan your fuel management wisely.