Borneo Transit | WBKK<->WALL City Link
23 April @ 9:00 pm

-

11:00 pm

UTC+8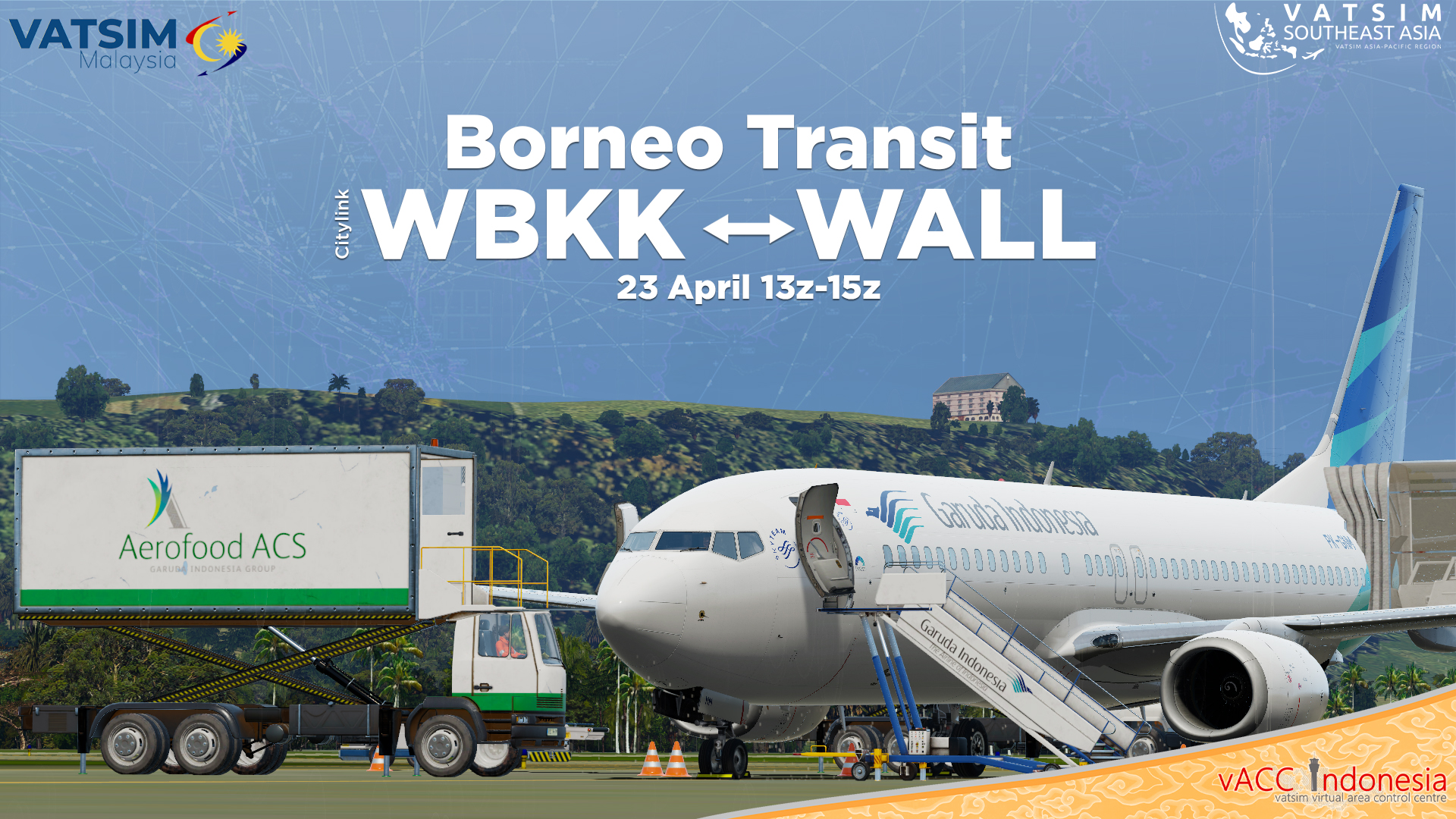 Indonesia and Malaysia vACC are inviting you into our special citylink in Borneo Island between Kota Kinabalu (WBKK) and Balikpapan (WALL) from 1300z until 1500z or vice versa. Within the 90 minutes of flight time, all types of aircraft and VFR/IFR traffic are welcome. We are looking forward to see your callsign in the event!
Time and Date : 23 of April 2022
Malaysia and Indonesia vACC will operate from 1300z until 1500z.
Featured Airports:
WBKK : Kota Kinabalu International Airport
WALL : Sultan Aji Muhammad Sulaiman Sepinggan International Airport
Preferred Route:
WBKK to WALL
AKDEM W425 VTW A211 TRK W18 SOSVO
WALL to WBKK
SOSVO W18 TRK A211 VTW W425 AKDEM
WBKK
[FSX/P3Dv4 Freeware]
[P3DV4 & V5/FSX/FS9/MSFS2020 Payware] MFSG
[XP11 Freeware]
WALL
[FSX/P3Dv4 Freeware]
[FSX/P3D Payware] BINERSIM
[XP11 Freeware] Gateway
Aeronautical Charts:
WBKK
WALL (Sign In Required)
VATSIM Event Link:
Click Here!
Remarks:
1. All flights and ATC services in Malaysian FIR will be conducted under the VATSIM & Malaysia vACC regulations. Conflicts will be handled as per published on the VATSIM CoC.
2. Non-event traffics will be granted lower priority.
3. Plan your fuel management wisely.
4. Minimum AIRAC Cycle 2112 or later is required.