Kuala Lumpur – Jakarta Capital City Pair
10 April @ 8:00 pm

-

11 April @ 12:00 am

UTC+8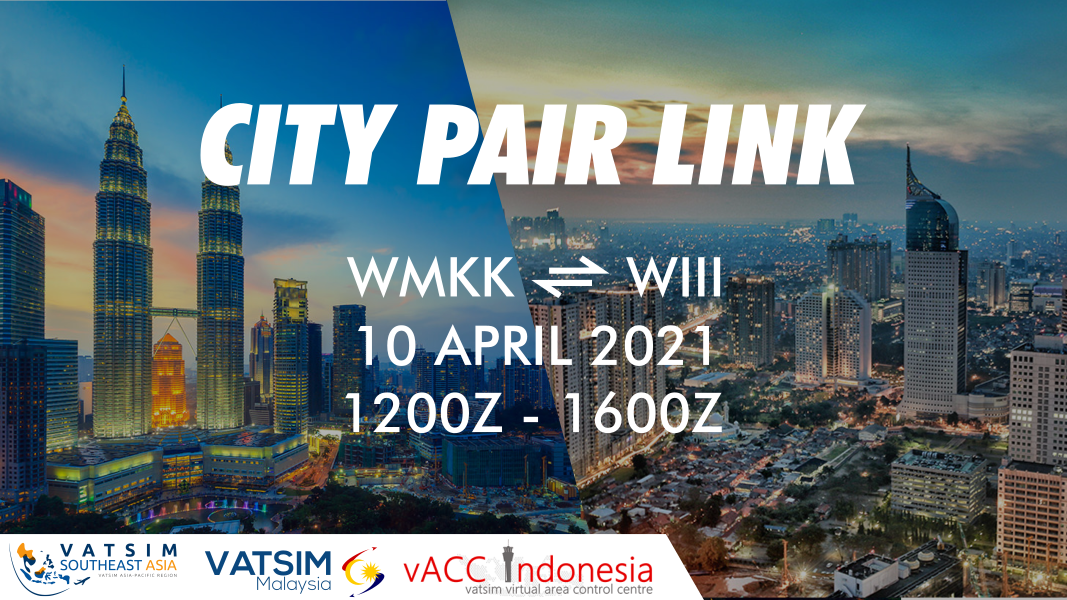 "The Rendang of Two Cities"
Nasi goreng, rendang, sate. Who did it first, Malaysia or Indonesia? Well, to us it doesn't matter as long as you visit us on our City Pair this coming 10th of April 2021! Fly in or out of our capital cities, with full ATC coverage along the way. Make sure to wear your best batik while flying!
Time and Date : 10 of April 2021
VATSIM Malaysia vACC and Indonesia vACC will operate time from 1200z until 1600z
Featured Airports:
WMKK : Kuala Lumpur International Airport
WIII : Soekarno-Hatta International Airport
Preferred Route: 
WMKK to WIII
MITOS M630 BOBAG P501 ANITO B470 BOSLO W26 BUNIK
WIII to WMKK
DOLTA A585 PLB G579 VJB A457 GUPTA
Preferred Sceneries:
WMKK
[FSX Freeware]
[P3DV4 Freeware]
[P3DV4/FSX Payware]
[XP11 Payware] CloudSurf Asia Simulations
[XP11 Freeware] X-Plane Forum
WIII
FSX & P3D (Payware)
FSX & P3D (Freeware)
X-Plane 11
Aeronautical Charts:
WMKK
WIII (Sign in required)
Remarks:
1. All flights and ATC services in Malaysian FIR  will be conducted under the VATSIM & Malaysia vACC regulations. Conflicts will be handled as per published on the VATSIM CoC.
2. Non-event traffics will be granted lower priority.
3. Plan your fuel management wisely.